Liberty Partners with Neighboring Utilities to Create Electric Vehicle Charging Network Across Midwest
Joplin, Missouri – March 16, 2021 – In a Memorandum of Cooperation announced today, Liberty has partnered with nine regional energy companies to build a network of Midwest electric vehicle (EV) charging stations by the end of 2022.
According to the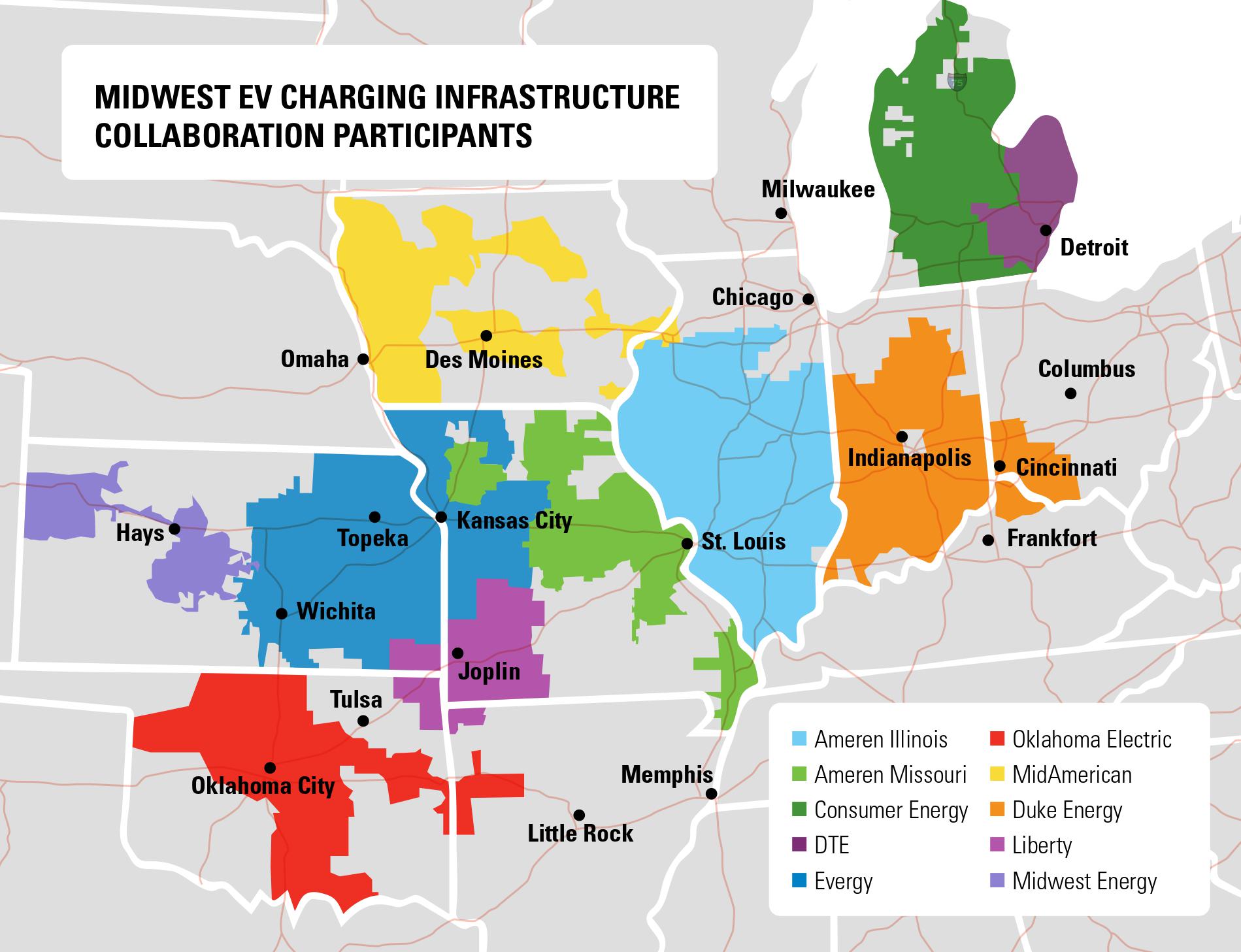 Edison Electric Institute (EEI), more than 1.2 million electric vehicles are on U.S. roads today. EEI forecasts this number to grow to 18.7 million by 2030. A robust network of EV charging stations will be required to serve the needs of these drivers. Additionally, the Electric Power Research Institute forecasts automakers will produce more than 130 models by the end of 2022.
"Liberty is proud to focus on sustainability and clean energy options for the future," said David Swain, Liberty Central Region President. "Our goal in participating in the Memorandum of Cooperation is to provide support to those who have already chosen to drive EVs and to those who are interested in switching to EVs. By expanding the charging network across the Midwest and working on localized EV programs, we're meeting the needs of our customers now and supporting positive change for a lower carbon future."
As part of its commitment to transportation electrification, Liberty intends to install 115 additional charging ports at publicly accessible locations. To date, Liberty has installed 30 charging ports at local public locations and an additional 38 ports at Liberty locations, some of which may be used by the public.
"We must be at the forefront of important movements like this one," said Tim Wilson, Liberty Central Region Vice President of Electric Operations. "Liberty is not only focused on expanding the EV charging network in the Midwest, but we're also concentrating on programs that will support our residential and commercial customers who would like to make the switch to EVs and EV fleets. We understand that switching to EV requires a level of support and our proposed programs recognize that need and provide incentives that will help make the switch easier for our customers."
Liberty's individual EV support programs are subject to regulatory approvals before implementation.
The Memorandum of Cooperation, a first-of-its-kind partnership, includes participation from the following electric utilities: Liberty, Ameren Illinois, Ameren Missouri, Consumers Energy, DTE Energy, Duke-Indiana, Evergy, MidAmerican, and Oklahoma Gas and Energy.
About Algonquin Power & Utilities Corp. and Liberty
Algonquin Power & Utilities Corp, parent company of Liberty, is a growing renewable energy and regulated utility company with assets across North America with approximately $13 billion of total assets. The Corporation acquires and operates green and clean energy assets including hydroelectric, wind, thermal, and solar power facilities, as well as provides safe, secure, reliable, cost-effective, and sustainable energy and water solutions through its portfolio of electric generation, transmission, and distribution utility investments to over one million customer connections, largely in the United States and Canada.
###