Children and adults lined the banks of the pond in Martin Luther King Park, the sun shining on smiling faces as everyone hoped to reel in a big one.
Anna, one of the many kids on hand for the second annual Liberty Fishing Derby held June 24 in Pine Bluff, Arkansas, clutched her fishing pole as she pondered an important question: What is her favorite part of the event?
"The best part is catching fish," she said, having already caught one that morning.
At the nearby Youth Fishing Education booth, sponsored by the University of Arkansas' Division of Agriculture, Kayden – another local youth – is getting some help repairing his fishing pole. Catching fish is fun (like Anna, he had already reeled one in), he said, but his favorite part?
"Eating them," he said.
The second annual event, which Liberty sponsored along with the Arkansas Game and Fish Commission (AGFC), was a resounding success. It drew hundreds of area residents for a day of fishing and other activities, including archery, canoeing, a BB gun range, music, prizes, and fish-cleaning and cooking demonstrations.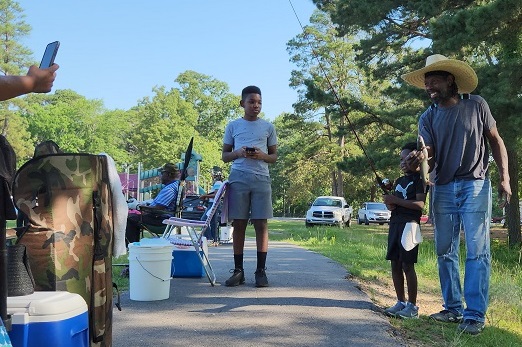 Free health and wellness screenings were offered by Jefferson Regional Medical Center.
Liberty volunteers were on hand to help set up, grill hot dogs for lunch, and lend a hand wherever needed. For those attending, the big draws (aside from fishing) were canoeing out on the pond and sampling smoked and grilled catfish.
"Here in Arkansas, we're No. 1 when it comes to getting folks outdoors and fishing," an AGFC representative said, adding that partnering with Liberty helped make the event a success.
"Liberty is the water supplier for this community, so it makes sense for us to partner with a corporate sponsor. We're all in this together."
Additional sponsors for this year's event included the University of Arkansas-Pine Bluff, the Arkansas Department of Health, Arkansas Hunters Feeding the Hungry, the city of Pine Bluff, the Arkansas Game and Fish Commission Foundation, and Ambetter of Arkansas.