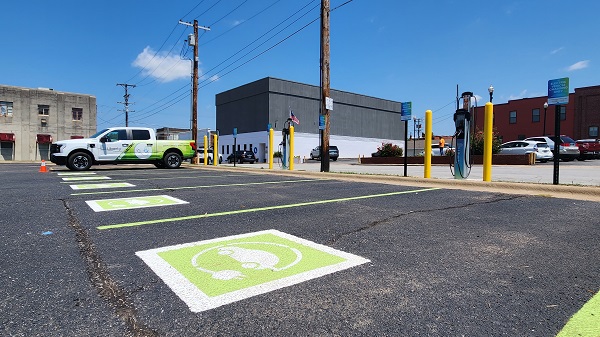 Location is everything, goes the old saying. And for EV drivers, the location of the new charging stations in Neosho, Missouri, couldn't be more convenient.
A ribbon-cutting ceremony for the chargers was held Wednesday, Aug. 16, at the Neosho Farmers Market, 114 N. Jefferson St. – perfect for those who want to shop or eat downtown or even just enjoy a walk in the park.
They mark the first installation as part of Liberty's Ready Charge program, said Robin McAlester, Liberty Senior Manager of Transportation Electrification.
"The program was approved by the Missouri Public Service Commission back in October (2022)," she said. "It's specifically for building public charging infrastructure. We asked for Request for Proposals to be submitted, then scored them. Neosho is the first."
The three charging stations have dual ports, allowing for six cars to charge in the lot. They have standard plugs for Level 2 charging, meaning they are not manufacturer specific and can be used by any EV make or model. They are part of the ChargePoint network and offer 24/7 support.
"ChargePoint is the largest network of EV chargers across the U.S.," McAlester said. "These stations will provide an opportunity for those traveling I-44 or I-49 to come to downtown Neosho, and for local customers who have an EV but may not have a place to charge at home."
The ceremony included remarks from Neosho City Manager David Kennedy; Jennifer Shewmake, Liberty's Vice President of Finance and Administration for the Central Region; and Lauri Lyerla, CEO of the Neosho Chamber of Commerce.
Lyerla said plans for the charging stations began with a suggestion from a local resident.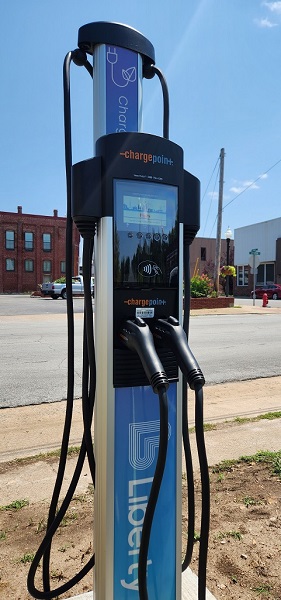 "We're always listening to the community to see what ideas they have and then pulling together resources to see if we can get it done," she said. "A community member reached out to say it would be amazing to have some chargers downtown."
In a case of perfect timing, Lyerla broached the idea with Liberty as the Ready Charge program was being launched. The Neosho Farmers Market was selected as the best possible location for the chargers.
"It's easy to find, very close to Big Spring Park, across the street from our amazing library, and so close to all the exciting things happening downtown," she said. "There are new restaurants and places to shop, and it's great for people who just need to come take care of business at the courthouse or nearby offices.
"This was a rare opportunity for Neosho to get this at a low cost for the city and community. Liberty is one of the investors in this community and we appreciate that continued partnership."