Liberty's Clean Energy Transition
Liberty's transition to clean, renewable energy protects our environment through lower carbon emissions and saves customers money over the long term compared to other energy generation. This includes Liberty's recently completed 600-megawatt wind energy project consisting of three wind farms. North Fork Ridge, located in Barton County, Missouri near Mindenmines, began serving energy to the Southwest Power Pool in September 2020 and declared full commercial operation December 31, 2020. Kings Point, located in Dade, Jasper, and Lawrence Counties near Lockwood, Missouri, began commercial operation April 21, 2021. And Neosho Ridge Wind in Neosho County, Kansas near Galesburg, began commercial operation on May 1, 2021. This wind project is expected to generate savings for customers of approximately $169 million over a 20-year period and approximately $300 million over a 30-year period.
The Time is Right for Wind
Wind energy is an abundant, natural resource that is not dependent on imported fuel. Changes in cost, innovation, and technology have made generating wind energy in our region a cost-effective and reliable way to help produce the power we need and to control our energy future.
No polluting emissions during operation
Does not consume water
Healthier and more sustainable communities


Our customers expect us to look for innovative ways to provide reliable energy, hold down costs, and support our region by investing locally. This initiative is an important step to ensure we meet those expectations.
Wind Energy Provides Local Economic Benefits
In addition to cost savings and environmental benefits, the wind farms will bring jobs, tax revenue, and additional economic benefits to the communities and states where they are located.
Creates several hundred jobs during construction plus full-time operational jobs at each wind farm once construction is completed
Provides millions of dollars of tax revenue over the life of the projects to support local schools, government services, and property owners
Offers a new, steady source of income for landowners while enabling them to retain the use of much of their leased land for existing purpose such as farming or livestock (only a small portion – roughly 2/3 of an acre – is needed to site each wind turbine and its access road)
Keeps energy costs competitive, giving our community an edge in retaining jobs and attracting development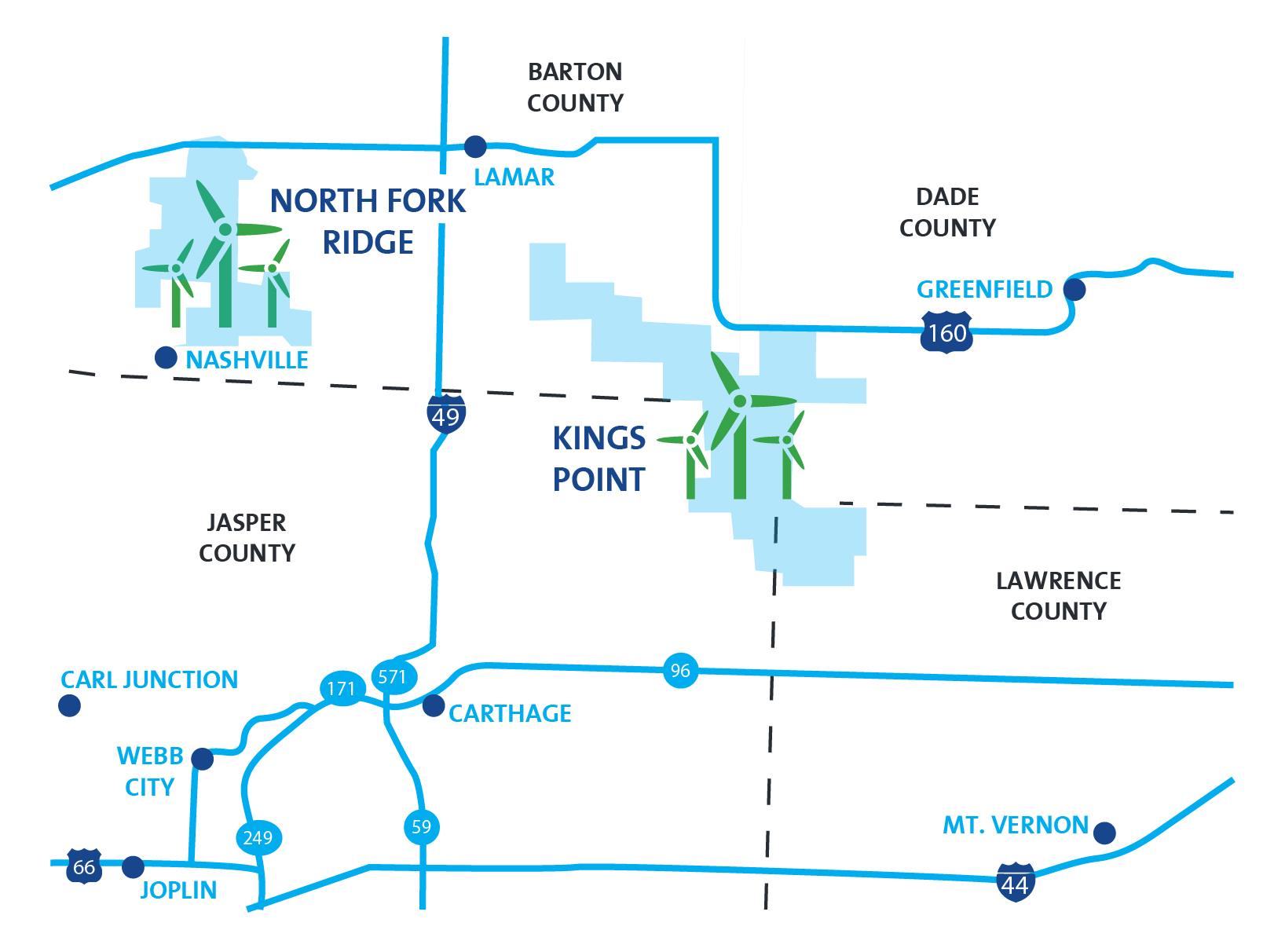 Wind Farm Sites 1 and 2: Barton, Dade, Jasper, and Lawrence Counties, Missouri
Wind Farm Site 3: Neosho County, Kansas