Speaking to employees and contractors assembled in a field near Liberty's Asbury Power Plant, Central Region President Kevin Noblet admitted the plant's demolition – scheduled to take place just minutes later – was likely a bittersweet moment for some.
But this moment was not a funeral. Far from it.
"This is a celebration of life," said Noblet. "We're not closing the book on Asbury. We're just completing one chapter of the book."
A few moments later, a siren sounds a one-minute warning, and all eyes turn to the power plant, the air pollution control system building, and two towering stacks – one 400-feet tall, the other 465 feet.
As the demolition began, the concussive blasts could be felt through the ground as the buildings collapsed, followed by the stacks. Only a brief cloud of dust remained over the debris as a new chapter for Liberty's presence in Asbury was started.
'End of an era'
An estimated crowd of nearly 700 people gathered on Sept. 5, 1967, for the groundbreaking for what was then The Empire District Electric Company's $26 million plant in Asbury. Among those in attendance were Missouri Gov. Warren Hearnes, Kansas Gov. Robert Docking, and several members of the U.S. Congress.
The plant became fully operational in June 0f 1970. It provided approximately 200 MW of coal-powered generation and remained operational for nearly five decades. A fiberglass cooling tower was added in 1997, making operations more efficient. In 2005, it was recognized by Power magazine as one of their Top Plants. But as time marched on, energy needs and sources both changed. The plant became less economical compared to other forms of energy generation and faced significant and expensive investments required by the Environmental Protection Agency. It was removed from service March 1, 2020. All employees had the opportunity to transition to different jobs within Liberty, with many taking positions at one of the company's three wind farms.
"It was Empire's flagship plant for many years," said Missouri Rep. Bob Bromley, who retired as plant manager in 2016 and now serves Jasper and Newton counties as Representative of the 162nd District. "I always enjoyed working with the people out here."
Bromley began his career in 1982, and having earned a degree in mining engineering, he was hired as a fuel supervisor.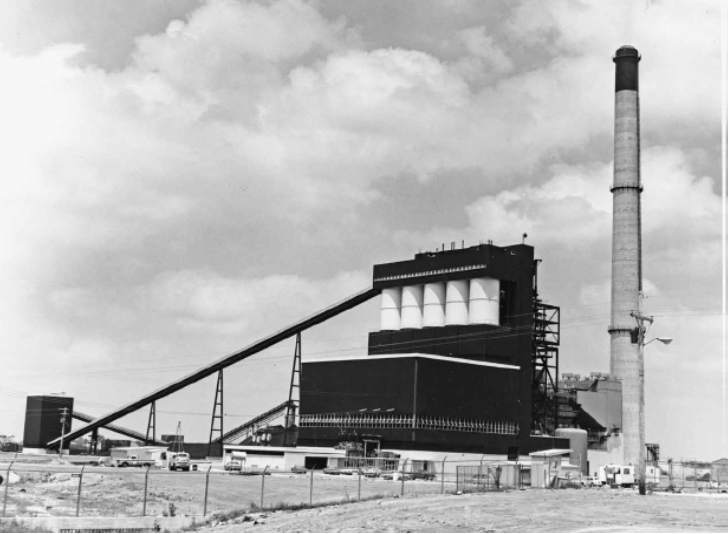 He later served as the plant's environmental director before being named plant manager in 2005.
As he prepared to watch the demolition get underway, he called it "the end of an era."
Demolition derby
Preparation for the demolition began more than a year ago, said Shaen Rooney, Liberty's Director of Strategic Projects.
"It began with environmental surveys," he said. "The contractor came to the site last October to start the first phase, which was removal of all hazardous materials from the plant. That took about four months and was finished up in February.
"The last three or four months of work was to prepare for today – the explosive demolition. Our demolition contractor came up with an engineered plant for what beams and other sections needed to be pre-cut so that everything falls the way it's supposed to."
Five days prior to demolition, explosives – including more than 1,690 pieces of dynamite and other explosives – were placed in areas previously identified for what was a successful implosion.
"The rest of the summer will be spent cutting up parts of the plant as it lays on its foundation," said Rooney. "It will be loaded up in trucks and sent off for steel recycling, while copper and other metals will be separated out and sent to different mills. Then we'll work on demolishing the concrete foundation, backfilling excavations that are no longer needed, and eventually planting grass."
AROC and roll
With the dust settled, the next question becomes: What next?
"We'll continue to use (the site) to serve our customers," said Rooney. "Our renewable operations center is here. With its proximity to a substation, it really has a lot of potential."'
In fact, the new chapter is already being written, as its already the location of the Asbury Renewable Operations Center – already affectionately known as AROC.
The substation serves as the interconnection point for North Fork Ridge, one of three Liberty wind farms generating approximately 600 megawatts of clean, renewable energy. An office building, maintenance shop and employee facility remain. Discussions are already underway as the company considers future opportunities for the site, using the existing infrastructure to support clean and reliable power generation.
The book on Liberty and Asbury is still being written, Noblet reminded those gathered to watch the plant come down.
"We had 50 years of great jobs and employment here," he said. "We hope to have another 50 years of this site providing safe, reliable, and affordable power for the community."