Pontiac professes that his favorite color is green as he plugs a green bulb into the Illumination Station, smiling as it lights up.
Alan Watts stands nearby, watching his young son continue to add bulbs to his design before asking what it is he's making.
"It's a surprise," says Pontiac, a huge Bill Nye the Science Guy fan who is clearly relishing the opportunity for some hands-on creativity.
The Illumination Station – essentially a giant Lite-Brite – is the latest interactive exhibit at the Creative Learning Alliance, 905 Main St. in Joplin, Missouri. The interactive science center is designed to promote an interest in STEAM (science, technology, engineering, art, and mathematics) through activities that allow children (and adults) to exercise creativity and imagination.
Liberty recently partnered with the alliance to purchase the Illumination Station, which is the center's first manufactured exhibit.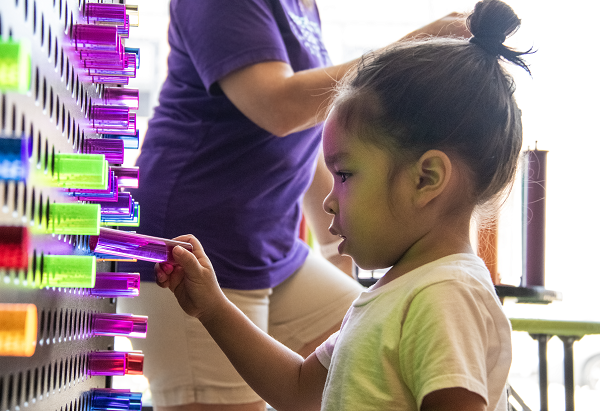 "The Creative Learning Alliance grew out of the Vision Joplin 2022 community study that happened back in 2017," says Neely Myers, executive director of the center. "The committee got together to figure out where the holes were in Joplin in terms of culture, amenities, and direction for growth. One of the things that kept coming up over and over again was a children's museum. As many processes do, it's taken many years to get to where we are now."
And where they are now is just Phase 1 of a much larger vision, she says.
Their current home in a rented storefront on Main Street has always been intended as temporary. The alliance plans to have a new, larger location for the science center to move in to by 2025.
With the exception of the Illumination Station, all exhibits were created by local builders. They include a Whack-a-Tune, made with brightly colored pipes of differing lengths that produce different tones when struck; a pendulum wave, which allows users to observe wave patterns as they move in and out of sync; and an augmented reality sand table. Monthly programs – or "labs," as they're called – have included teaching kids how to make their own pinhole cameras, and creating and playing unusual musical instruments. They have also hosted groups from Community Support Services of Missouri and Jasper County CASA.
The Illumination Station connects perfectly with the other featured exhibits, says Myers.
"We know the brain, particularly in kids, learns best while doing," she says. "This brings in art, color, and composition, as well as some math and geometry," Myers says. "It encourages critical thinking as kids think, 'I want to build this pattern. How do I do that with the materials provided?'
"It's exciting because it lights up and is right here by our front door. When families check in for an event, kids run straight over there to play.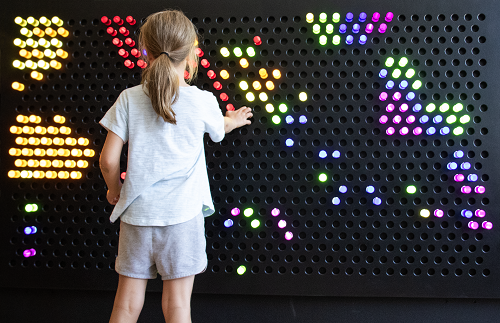 "We're so grateful to Liberty for being a partner with us from the very beginning. We know this is part of building our future workforce. Kids get excited when they're here. They're having experiences they might not otherwise have in their lives, and the possibilities are endless."
Liberty was thrilled to help support the new exhibit, says Kevin Noblet, Central Region President.
"The STEAM disciplines are crucial to the growth and success of our communities and certainly the utility industry," he says. "We're excited to support the work of the Creative Learning Alliance to encourage children and others to develop interest in these vital fields."
One of her most validating experiences at the Creative Learning Alliance came when Myers spoke with a young visitor.
"I asked what he had enjoyed most about it," she says. "He told me, 'I played with everything, and nobody said, 'Don't touch.' I loved that."
Click here to learn more about the Creative Learning Alliance.