Having picked up the free tree he had registered for online, Derrick Wellesley watched as his two young children high-fived Louie the Lightning Bug and then headed to a neighboring tent to meet Darth Vader and other Star Wars characters.
May the Forest be With You, indeed.
"It's a really cool event," said Wellesley. "We signed up for a free tree but didn't know this was going on. We've visited the Wildcat Glades and Joplin History & Mineral Museumtents, so far. We're about halfway around."
A celebration of both Earth Day and Arbor Day, Liberty partnered for the April 22 event in Wildcat Park along with the Joplin Parks and Recreation Department, Wildcat Glades, the Chert Glades chapter of Master Naturalists and the Missouri Department of Conservation. It included vendor booths, a scavenger hunt, a native tree and plant sale, live music, and more.
Liberty was on hand to conduct the utility's annual tree giveaway, offering a free, three-gallon tree to the first 500 households who registered online.
"We've been doing (the tree giveaway) each year as part of our Tree Line USA award," said Jason Grossman, Liberty's Manager of Vegetation Management. "Ten years ago, we were standing out on the corner of Fourth and Main streets tossing seedlings into people's cars at the stoplights. It has grown significantly over the years with more partnerships. As part of the award, we offer public education and part of that is giving away trees and informing people about the Arbor Day Foundation's Right Tree in the Right Place program.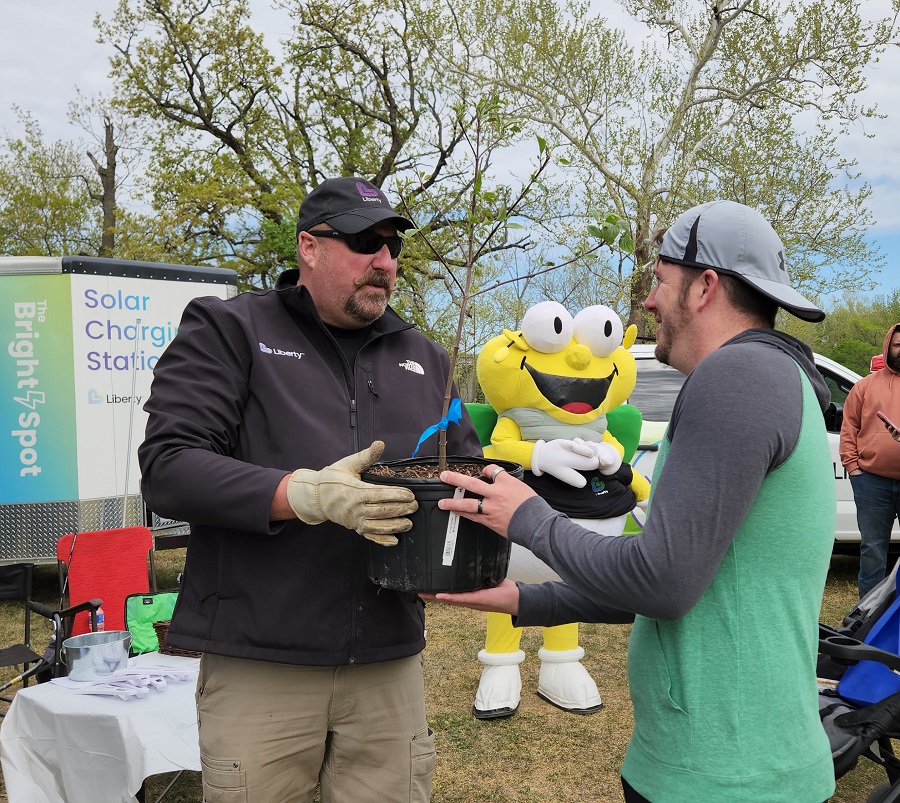 "Deciduous trees planted on the east or west side of the home provide shade during the hot summer months and allow sunlight to warm the house during cold winter months. Evergreen trees planted on the north side can provide a wind break from the cold northerly winds during winter."
Those who registered for a free tree were able to pick from several native varieties, including Swamp White Oak, Flowering Dogwood, Bald Cypress, Yellowwood, and Eastern Redbud.
Nearly 20 volunteers from Liberty gave their time to assist, along with six contractors from CNUC Foresters. Together, they helped connect visitors with their trees and provided education about the best places to plant them. Also featured were Liberty's mobile charging station and one of the two fully electric Ford F-150 Lightning trucks being used across the service area.
"This event is getting better and better every year," said Robin Standridge, President of the Wildcat Glades Friends Group. "People are excited to be part of the solution rather than just focusing on the problems at hand.
"We would love people to take away from this that they can play a part. It doesn't matter if it's picking up trash, planting a tree … planting the right tree, or if they start thinking about single-use plastics and avoiding using those things. Everyone has a part to play."
Bonnie Hinman, a certified Missouri Master Naturalist with the Chert Glades chapter, agreed on the importance of events such as May the Forest be With You.
"We want to educate people about how to conserve all of our natural resources," she said. "We participate in educational events like this, and also do hands-on work like restoring prairie land and taking out invasive species. Mainly, we want people to take away the importance of the natural world."