The first thing you notice when starting up the Ford F-150 Lightning is … well, nothing.
No sound of an engine roaring to life or the accompanying shudder. In fact, if the ignition button wasn't displaying a small green light, you might be hard pressed to tell the vehicle has been started at all.
The same holds true when accelerating: You don't feel the shifting of the gears, because there aren't any. It's a smooth feeling of acceleration, the only discernable sound is the hum of the tires on the blacktop.
As the Lightning cruises to a stop at an intersection, the regenerative braking system kicks in, which reduces the battery use by regenerating and replenishing power.
Derrick Shadwick, Manager for Transportation Electrification and Sustainability, points out a few of the many features on the console – including how many miles the current charge will get you: In this case, 180.
But for all the bells and whistles, Ford's first fully electric truck is still just that. A truck – one that has the same power and work capabilities as its gas-powered counterpart.
"It looks like a truck, it drives like a truck, it quacks like a truck," he says. "It's a truck. When people get in it, they'll find it's exactly what they've been used to driving all their lives."
The F-150 Lightning is one of two recently put into use by Liberty's Central Region, bringing the total to five EVs currently in service in the light-duty fleet, along with a number of hybrid vehicles.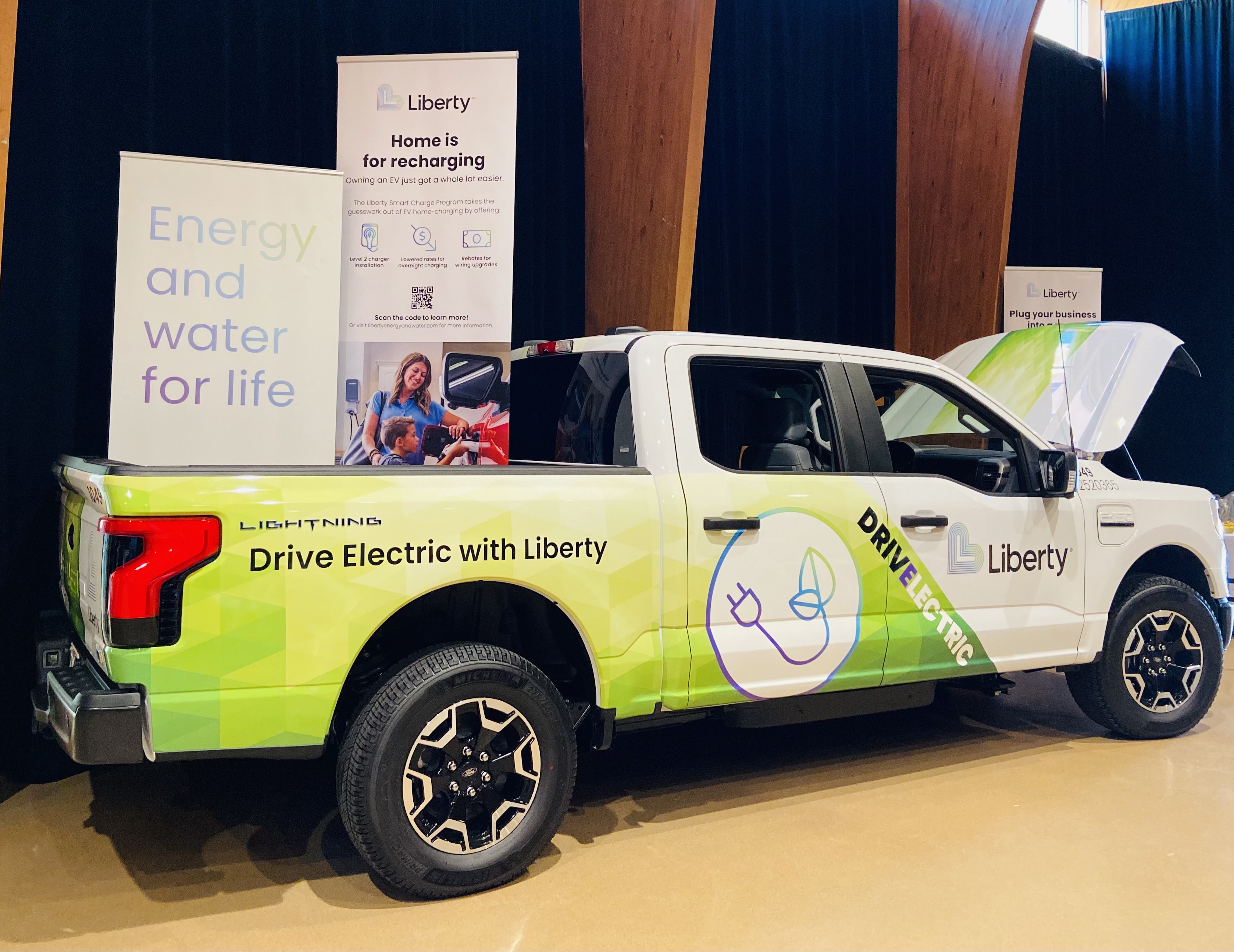 "Liberty has a goal of converting our light-duty fleet to alternative fuel by 2030," says Robin McAlester, Senior Manager for Transportation Electrification. "That could be CNG (compressed natural gas), biodiesel, or plug-in electric.
"When a fleet vehicle is in need of replacement, our transportation team will research to see what is available with an alternative fuel source that will meet the needs for the duty assigned to that vehicle."
Looking to the future
Liberty is far from alone when it comes to promoting the benefits of residential and commercial EV use.
In January, The Wall Street Journal reported that EVs accounted for nearly 6 percent of all vehicles sold in 2022 the U.S. – for a total of 807,180. That number was up from 3.2 percent in 2021.
Jordan Correa, a sales professional with Frank Fletcher Ford in Joplin, says customer interest in EVs is on the rise locally.
"Especially with the spike in gas prices, we've been getting calls asking about hybrids and all-electric vehicles," he says. "Right now, Ford only has two – the Mustang Mach-E and the F-150 Lightning. There's been a commodity and chip shortage the last few years, but that problem is starting to go away and we're getting more of them on our lot.
"Our master techs are certified to work on EVs. They have to be for us to sell them. Frank Fletcher is investing more than $1 million in EV infrastructure because we're excited for the future."
There are two primary, forward-looking benefits to driving an EV.
The first, of course, is helping to reduce our environmental footprint. Steve Wade, a Joplin resident who recently purchased an F-150 Lightning, says that was a big selling point.
"I like the idea of not polluting the atmosphere any more than it already is," he says. "I'm not really what you would call a 'tree-hugger,' but I think we should all want to take care of what the good Lord gave us."
Companies across the country are working to decrease their carbon footprint, says McAlester, and converting their fleet of vehicles to electric is one of the easiest, fastest ways to reduce their greenhouse gas emissions.
"Cleaner air does have an impact on a community, in terms of economic development," she says. "For example, a manufacturing business looking for a place to expand or relocate wouldn't choose a city with poor air quality due to the additional costs required to operate in that city because of environmental mandates."
Immediate savings
The second benefit is money. In addition to fuel savings, there are fewer moving parts which means no oil changes, belt replacements or other major and minor repairs that can add up over time.
Wade – who had Liberty install a Level 2 charger at his Joplin home – says the savings have been immediately apparent.
"I haven't been to a gas station since I bought it," he says. "When I get home at night, I plug it in. It turns on and off automatically during the time when the electricity cost is low."
The cost to "fill up" his car is about $3, says Wade.
The smart Level 2 charging station Wade uses was made possible through the Missouri Residential Smart Charge Pilot Program. It offers financial support for the installation of charging equipment and a special energy rate for customers who charge their EVs at specific times. Liberty's Time of Use program will allow EV owners to maximize their savings by utilizing the most affordable time to charge their vehicle.


The bigger picture
There are criticisms, of course. A quick Google search will find heated discussions insisting that the vehicles' production negates any "green" benefits … that the batteries cost too much to replace, they can't be recycled, that the lithium production process is bad for the environment. Some of the myths pushed about EVs center on the vehicles being less safe, which couldn't be further from the truth.
According to Plug In America, a non-profit EV advocacy group, EVs generally perform better in crash tests than gas vehicles. They are also less prone to rollovers and come with safety features that shut down the electrical system in the event of a collision or short circuit.
Some of the complaints about EVs fail to capture the bigger picture, says McAlester.
"When you compare what's cleaner (gas or diesel versus electric), you have to compare it to the whole supply chain," she says. "Drilling, refining and transporting fuel that goes into a vehicle is a very dirty process."
While fossil fuel is used for power generation, if one considers the total life cycle of the vehicles over the years, there's no comparison. EVs also allow you to use 100-percent clean, renewable electricity from sources such as the sun or wind, eliminating greenhouse gas emissions entirely. EVs get cleaner as the electric grid gets cleaner. Liberty has continued to focus on sustainability with the addition of windfarms and community solar programs over the last few years.
Vehicle batteries have an excellent recycling record that will get even better with plug-in vehicles. Every car in the world has a lead-acid battery. Even with its low value as scrap, the national recycling rate for lead-acid batteries is about 98 percent. Plug-in vehicles mostly use lithium ion, which is much more valuable than lead. It's illegal to dispose of these batteries in a landfill, and their inherent value will ensure that they are recycled.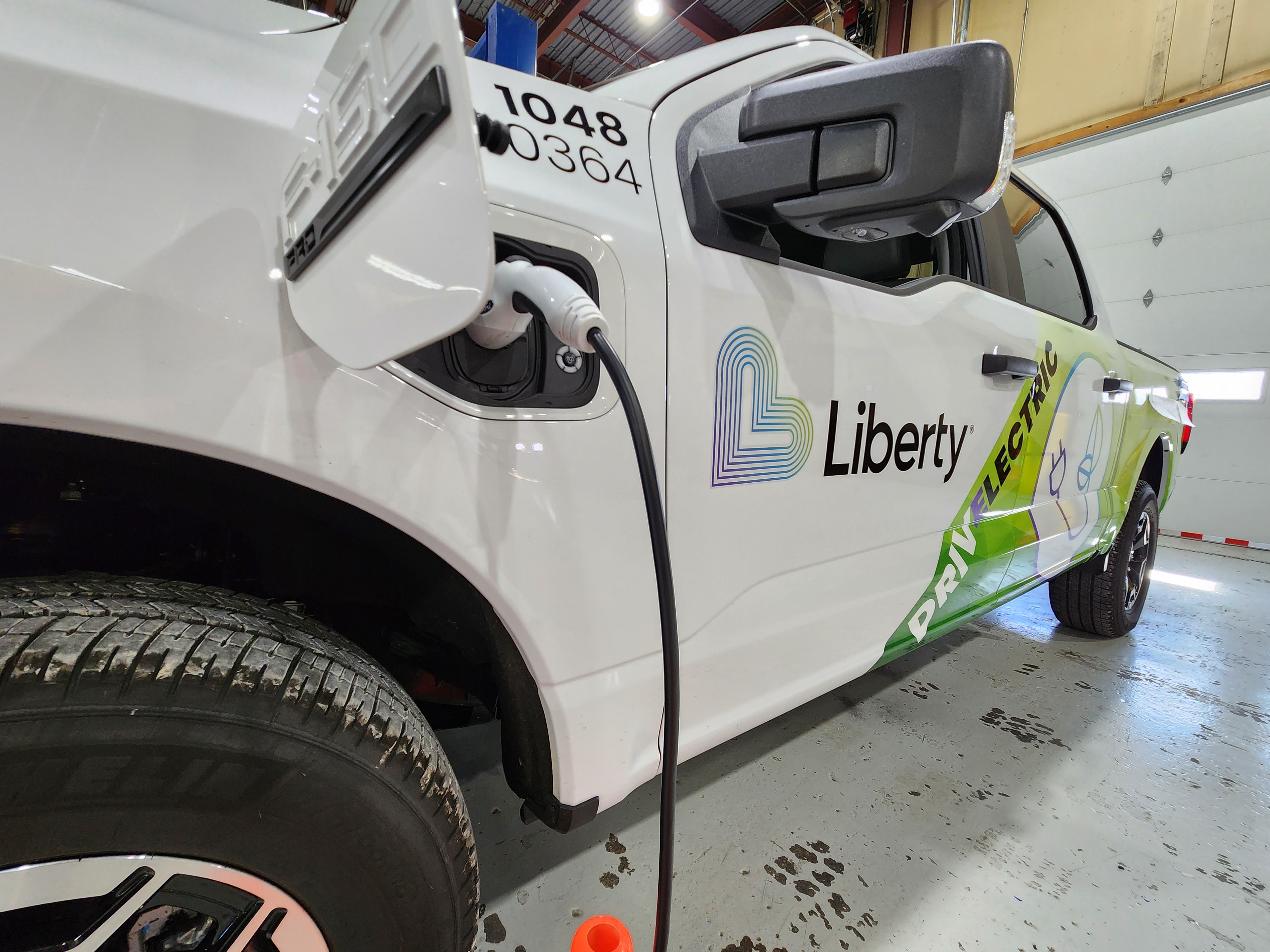 "At the end of the day, you could have the dirtiest of all fuel sources used to generate your electricity and the EV will still be cleaner than gas or diesel," she says.
The EV batteries come with an eight-year, 100,00-mile warranty. And when it has outlived its usefulness in the vehicle, it can take on new life by being used for home commercial storage or backup power. The federal government is currently holding competitions to create different battery types and recycling opportunities, while some car makers are exploring "second-life" applications for used EV batteries as well.
When it comes to the mining of the battery's components, yes, it's a messy process, McAlester says.
"But there are things happening now to make that process better," she says. "A lot of the components are coming from overseas, but there's new made-in-America legislation resulting in the process being better regulated. Manufacturers are also working on the battery design, allowing the raw materials to be more easily extracted and used in another battery."
Walking the talk
Liberty's commercial customers will find assistance to convert fleets and equipment from gas to electric (including a school bus pilot program), and opportunities to host charging stations at publicly accessible sites.
The latter is part of Liberty's commitment to create a charging infrastructure for EV drivers.
"We want to make sure that fast, public charging stations are available at major travel corridors within our service territory," says McAlester. "We currently have eyes on places that don't have them now."
Liberty's ongoing efforts to electrify its fleet will also allow the utility company to offer the latest and most accurate information to customers interested in learning more about EVs.
"It's a good example of Liberty walking the talk," says McAlester. "When our customers want to try an EV or a company wants to electrify their fleet, we know the pain points. We can advise them more accurately and speak to the successes we have had. We're right here with you."