Liberty has an industry-leading vegetation management program designed to keep our system safely and reliably delivering electricity to our customers. The Vegetation Management Department is assigned with the task of managing the vegetation on over 7,000 miles of lines.
Why Vegetation Management is Necessary
The damage caused by fallen branches and trees can result in outages to numerous customers. Liberty's vegetation management program addresses trees and brush encroaching on the utility right of way.
Liberty serves customers in four states; Missouri, Oklahoma, Kansas, and Arkansas. Each state has a service commission mandating the requirements that Liberty's vegetation program must achieve.
Our Vegetation Management team strives to maintain a high level of service reliability by limiting outages caused by vegetation.

---
Additional Services and Information
Transmission Right of Ways (ROW)
To control vegetation growth underneath and on both sides of a transmission structure, Liberty utilizes a zoned approach. The zone directly underneath the wires is called the wire zone. Liberty encourages growth of grasses and other low-lying plant species.
The zones on the outside of the transmission wires are called the border zones, where shrubs and dwarf trees are allowed.
Trees outside of the ROW are managed by the hazards they may present to the lines.
Wires over Wildlife (WOW)
Liberty has also implemented a cost share program, Wires over Wildlife, to work with ROW landowners. This promotes wildlife such as deer, pollinators, native birds, and many other native species by using native plants.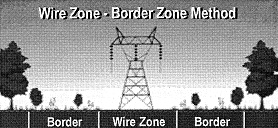 Power to the Pollinators
Pollinator gardens help provide a safe environment for pollinators to flourish.
It is our desire at Liberty to inform and discuss our vegetation management practices with property owners. If you have questions about our Vegetation Management Program, you may call our Contact Center at 1-800-206-2300, or email our Vegetation Management Team. All vegetation customer inquiries and responses are logged and we strive to return all customer calls within five days.